Videoconferencing at IU
IU offers no-cost virtual rooms (also known as bridges) for faculty, staff, and guests to meet online—at any time, from anywhere. No reservations required.
On December 23, UITS Collaboration Technologies will retire the "23" Video Bridge (Pexip). The retirement will affect all conferences that begin with the prefix 23- as well as bridge.iu.edu and uits.iu.edu/bridge. Please transition to Zoom for virtual meetings. Find out how to get started with Zoom here.
Your existing "23" conference number will not migrate to Zoom. Learn how to customize your Zoom Personal Meeting ID here.
Questions? Contact UITS Collaboration Technologies at cthelp@iu.edu or 812-856-2020.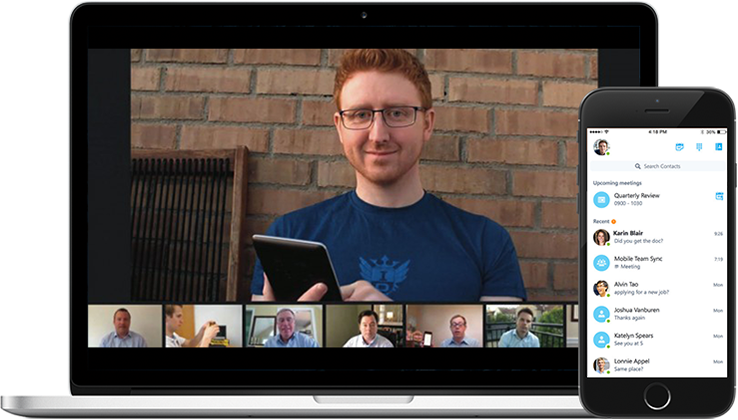 Connecting via web or personal device
Got a web browser and a webcam? You're ready to join a virtual meeting room. Recommended browser: Google Chrome*

On a personal device? Connect via Microsoft Skype for Business (Lync) or the free Pexip mobile app.

* Chrome users: If you plan to share your screen, be sure to install the Pexip Screensharing Extension for Google Chrome.
What is a "23" video bridge?
A "23" virtual meeting room (VMR) allows multiple participants to meet and collaborate with full two-way HD video and audio, screen sharing, and chat. Participants can join meetings quickly—at any time—from a web browser or Microsoft Skype for Business (Lync). Video room systems and telephones can also join "23" VMRs.
About "23" virtual meeting rooms
IU's "23" virtual meeting room service is based on the Pexip Infinity Connect conferencing platform. Pexip specializes in "any to any" conferencing, enabling users to meet and collaborate from web browsers, Microsoft Skype for Business (Lync), traditional videoconferencing room systems, tablets, and smartphones.
Any IU faculty or staff member can create their own "23" VMR using the automated form. The form will require:
A unique six to nine digit conference number that begins with 23-
Virtual meeting room name of your choice
Secret Host PIN of your choice
After submitting the form, you will receive a confirmation email and connection instructions for meeting attendees.
Permanent and always on
Once created, your "23" virtual room is permanent and always on. This means you can call it anytime with no reservation necessary.

Hosting duties
At the chosen meeting time, you and invited attendees will call the "23" number using a web browser or personal device. You will need to input the secret Host PIN. This activates the meeting audio and video for all participants. Hosts can also:
See a roster of participants and icons indicating which are currently speaking (if you join via web browser)
Lock the conference to prevent new participants from joining unannounced
Mute or disconnect individual participants
Invite new participants
Streaming and recording
Need to deliver your message to a wider audience? "23" VMRs can also be streamed and recorded. Request an event stream »
How it works
Create a unique "23" virtual meeting room number using the automated form
Share your "23" virtual meeting room number with meeting attendees
Connect via web browser, Skype for Business (Lync), room system, or telephone